Alphataurus - Alphataurus (73) - 8/10


Italy produced a stunning amount of excellent bands in the seventies, and this is one of them. The album cover is quite original, depicting a dove dropping bombs. I have heard that this album has a concept, but the lyrics are in Italian, so it is hard for me to tell. Musically, Alphataurus sound a little like the outstanding band Biglietto per l'Inferno, though with a cleaner and calmer sound. There also seems to be some blues influence. The vocalist is not operatic as often is the case with Italian prog bands, but rather in the metal/hard rock vein. The instruments used are acoustic guitars, electric guitars reminding me of hard rock, piano, moog and organ. Keyboards often dominate the sound. The best part with this record is that it is very melodious, except the complex, always changing and typically Italian "Ombra Muta" (10 minutes). I highly recommend Alphataurus to fans of Italian progressive, but be aware that there are more accomplished bands out there.
Alusa Fallax - Intorno Alla Mia Cattiva Educazione - 9.5/10


An Italian classic. The music is accessible and heavily folk influenced, with frequent use of flute. The vocalist may be the most powerful I have ever heard, and is similar to Locanda Delle Fate's in style. The closest overall comparison would be PFM or Locanda Delle Fate, only more powerful and fast-paced, but the sound is uniquely Alusa Fallax's. Sax and horn can be heard occasionally. The drums actually sound African at times. The music is mostly soft and very melodious, yet always with an intensity and a pace reminding me of Mezquita and the better moments of Banco. Near the end of the record the style is somewhat different, becoming more energetic, jazzy and repetitive. There are 13 tracks on the CD, but it feels more like a continuous piece of music. It is difficult to point out exactly what makes this record so brilliant. But it is a fact that the entire album sounds great, and some parts are out of this world beautiful. Anyone who enjoys melancholic symphonic rock will rave about this album.
Anekdoten - Vemod (93) - 9/10
Apparently inspired by King Crimson's Red, but darker and more depressive.
Anekdoten - Nucleus (95) - 7/10
Hmmm. Not as good as Vemod, but it's difficult to point out why.

Anglagard - Hybris (92) - 9.5/10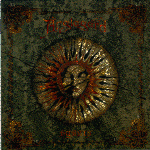 The best prog album from the 90s. Folk influences. Lots of mellotron.
Anglagard - Epilog (94) - 7/10
A lot of the folk influence is gone. Hasn't got the magic of Hybris.
Aphrodite's Child - 666 (72?) - 9/10
This was a Greek band, which featured the rather famous Vangelis as composer and mastermind in general. There are only slight similarities to Vangelis' later solo work on this double album. I bought 666 because I had heard that it was one of the weirdest records in prog history, and that could very well be so. It seems to have a concept about the Revelation of John (Biblical stuff, that is). However, I doubt that this record is possible to find in any CD player of conservative religious nutcases. A reason for this is for example the "Infinity" track, which contains some...uh, rathe-e-er theatrical vocals by an Italian actress. Apart from these half-unlistenable five minutes, the music can be divided into two categories. One is quite straight-forward psychedelic rock, really reminiscent of The Beatles ca. Magical Mystery Tour and Sgt. Pepper... (particularly the title-track of the latter). This may sound a little boring, but I find even these tracks very good, and they never last long enough to bore me. The other sort of music found here has an indefinable Mediterranean feel to it, and is very pleasing to the ear, though complex. These parts somehow have a typical Biblical atmosphere - but I'm not sure exactly why. It could be the keyboard sounds. The compositions are brilliant all the way through, as is the performance. The aforementioned weirdness emerges in several ways: Insane spoken or sung vocals, crazy or innovative musical passages and changes, and not to mention the "Infinity" track. However, the main focus always seems to be on the music. Disc 2 contains a 19-minute "medley" from the rest of the record called "All the Seats Were Occupied". It is not really a medley in the conventional meaning of the word, but has its own musical content, and music from the other tracks are imposed on top of this. At times, two or even three different cuts are played simultaneously, creating incredible, fantastic, extraordinary, outstandingly chaotic [musical] climaxes. Bloody brilliant. I cannot recommend this record enough. It is not really difficult to get into, but still is so different from anything else that even the most "advanced" prog fans should go looking for it. Now.
Area - Arbeit Macht Frei (73) - 7.5/10
An Italian band, but not really comparable to the other Italian progressive bands. Area can rather be considered an avantgarde/jazz-rock band with a strange vocalist. Some "meditarrenean music" influences recalling those of Aphrodite's Child are sometimes also to be heard. This is the main attraction of the astonishing opening track "Luglio, agosto, settembre (nero)" (4 minutes). Elsewhere, Area show off some typical jazz-avantgarde saxophone playing, and some brilliant bass playing. Some parts are dominated by keyboards and float around in an almost ambient manner. And the electric guitar sound is very much like Mahavishnu Orchestra's. Do not except to find any melancholic or sad music here - the music has hints of craziness reminding me a little of Samla Mammas Manna, only with a darker touch. This comparison is especially true for the last track, "L'abbattimento dello Zeppelin". When it comes to Demetrio Stratos' vocals, I didn't really find them so exceptionally strange as I had heard that they were supposed to be. On Arbeit Macht Frei, he mostly sings in a straightforward manner, and only occasionally makes funny sounds. I've heard him crazier on Area's later albums, like "Caos 2" on Maledetti, where he makes sounds that not even Christian Vander made before him. Arbeit Macht Frei is only quite highly recommended by me, as fusion and so-called avantgarde are not completely my cup of coffee. Still, given their uniqueness, they are a refreshing addition to anyone's record collection.
Atila - Intencion (76) - 6/10
Overrated Spanish band with some annoying rip-offs.